Welcome Spring! Busy season has started! Ship dates are now to 4 -5 days from the date of order. Please plan accordingly. We appreciate your patience!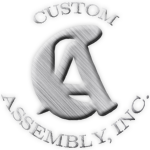 Custom Assembly, Inc.
Welcome to Custom Assembly, Inc. Over 25 years of warehousing, distribution, assembly and trucking experience. From the manufacturer to your showroom...
"We get it together"
We Get It Together
Custom Assembly Inc. is here to help you manage all your powersport distribution needs. Let us save you time and money by handling your unit from the distribution center all the way to your showroom. We can set up your units and handle the crate disposal with our recycling program. Your units will then be cleaned and delivered show-room ready. Our team of builders are trained here to ensure that the job is done right.
Learn more >>
Transportation
We can handle all of your sports and recreation transportation needs. Please click on the "Learn More" button to ask for a quote or to learn more about our trucks and trailers.
Learn more >>
---